This is the version of Feedback to appear on Earth-68, the universe of Dioga beta. Feedback is the Omnitrix's DNA sample of a Conductoid from the planet Teslavorr.
Feedback (Earth-68)
General Information
Species
Conductoid
Home World
Teslavorr
Body
Humanoid
Powers and Abilities
Abilities
Electrokinesis
Energy Absorption
Energy Redirection
Enhanced Strength
Enhanced Durability
Enhanced Agility
Enhanced Jumping
Enhanced Reflexes
Enhanced Speed (on electrical lines)
Flight (via Propulsion)
Energy Balls
Elastic Antennae
Radiolocation
Details
First Appearance
Incarcecon Breakout, Part 1
Appearance
Feedback is a black suited humanoid with a green stripe down the middle. He has one cyclopsian green eye, four fingers counting the opposable thumbs, and two toes. The Omnitrix symbol is on his chest. He has to electrical plug-in antennae on his head and one as his tail. He also now has golden bolts on his arms, hands and hips.
For his Dimension 23 appearance, see Plug Man below.
When used by Jane, she has a pink v pattern on her chest. She has one pink eye and two long antenna that go to the ground, simulating hair, with plugs on them. Her hips are wide and her chest is developed, as she has gold bolts over her body. She has a tail with a plug as well, and the Omnitrix symbol on her chest.
Powers and Abilities
Same as canon Feedback.
Weaknesses
Same as canon Feedback.
Feedback first appears in a crossover episode with Ahmad15.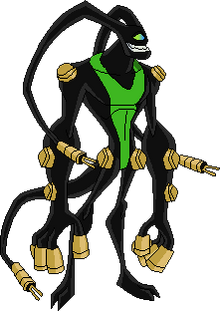 Dimension 10 (Ben 10)
Feedback is an alien used by Ben 10 in his dimension.
By Ben
Dimension 13 (Kingdom Hearts)
Feedback is used by characters from the Kingdom Hearts dimension.
Feedback first appears as a summon for Phantom.
Summoned by Phantom
By John
Ben 10,000 has access to Feedback.
Feedback is one of the aliens in the Dueltrix. While not appearing regularly, it is used in fusion aliens.
Plug Man is the version of Feedback to appear on Dimension 23, used by Megaman. He has blue clothes instead of green, and his black skin is more metallic, simulating the Mega Tech Armor. His left hand is the Mega Buster, the rim is covered in gold plugs. He uses his antenna plugs like usual, and fires his electric blasts from his Mega Buster.
Appearances
Feedback is unlocked by Albedo. Upon being unlocked, it becomes one of her most used aliens, her headstrong attitude making her ideal for combat.
Appearances
Feedback is an alien form available to several characters in the series.
Feedback (Ahmad 15)
This is the Feedback used by Ahmad 15. It only appears in crossovers.
This is the version of Feedback to appear in Bryce Bowman: Origins. It only appears in crossovers.
See also
John 23: Megaman
Main Enemies
Dr. Wily | Wily's Robots (BombMan, SwordMan, Yellow Devil, Punk, GridMan, GateMan, DrillMan, FlashMan, Colonel, LarkMan, KnighMan, Sniper Joe, BreakMan, TenguMan, KendoMan, CentaurMan, FridgeMan)
Roman Stardroids (Pluto, Mars, Mercury, Neptune, Jupiter, Uranus, Saturn, Juno, Venus, Ceres, Minerva, Diana, Apollo, Bacchus, Vulcan)
Bass | Dr. Regal | Treble | Baryl | Dr. Eggman
Omnitrixes
Omnitrix |

Prototype Omnitrix

| Nemetrix
Omnimania
Omnitrixes
Omnitrix (Ben, Megaman) | Prototype Omnitrix (Ryder, Jane, GIR, Looney John) | Dueltrix (Yami) | Mutatrix (John) | Nemetrix (Nails, Zed) | Ultimatrix (Albedo)