FX Robots are a serial group of robots . FX1 followed Ben,Gwen and kevin in The new force part :1 , He destroyed the Omnitrix and tried to destroy the Unlimitrix.
FX2 took Ben,Kevin and Gwen out of the Earth.
Each  one has different abilities.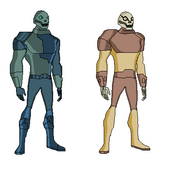 Missions
Mission 1.0 destroy the Omnitrix.(FX1) succeed
Mission 1.1 destroy the Unlimtirix.(FX1) faild
Mission 1.2 catch the three humans.(FX2)succeed
Mission 1.3 catch the prisoners.(FX2) faild
Mission 1.4 destroy the aliens.(FX3) faild
Mission 1.5 Follow the target.(FX4) faild
Mission 1.6 kill the targets. ( FX5) Faild
Robots and their powers and weapones
assualt rifle hand
superstrength
Flight
Explosive bullets
Bombs

===FX2: ===
Energy sheild
Energy shots
Flight

===FX3:===
Helping Technology
Pistol

===FX4:===

Strength
Assualt rifle hand
Smoke bombs

==FX5:==

Fire cover
Fire shots
fire attack
Fire bombs
High jumps
High agility
Appearances
See also
Community content is available under
CC-BY-SA
unless otherwise noted.