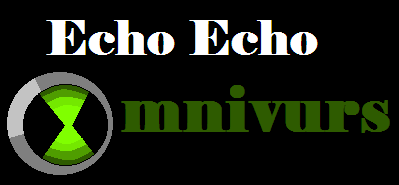 Echo Echo Omnivurs Overwrite is a show created by Echoson where writen Echo Echo Omnivurs episodes shall be put.
EEO is January 1, 2014's featured series! Thank all who voted!
Overview
This takes place in Omnivurs with a eleven year old Sonorasian who got the Omnitrix by accident by his best friend Cannonbolt and now uses his powers for good with his partner Swamps and his frenimy Heatblast. Some episodes take place in the real world with Ben in Omniverse. There is sometimes flashback episodes with OS, OV flashback, AF and UA.
Characters
Main Chracters
Recurring
Those who are Bold shows they already appeared.
Heatblast (A female counterpart who is Echo Echo's frenemy)

Master Brainstorm

Wildpup (Echo Echo's pet)
Ben Tennyson (UA, OS, OV, AF, 11, real world hero)
Kevin Levin
Gwen Tennyson
Rook Blonko

Prof. Fibian

Freed Feedback (A Conductoid who is free from Echo Echo's Omnitrix and now lives with him)
Bloxx (A stay which come and live with them and also the best friend of Feedback)

Koko

LatA

Arcticguana (EEO)
Janitor Goop (A janitor who cleans Omnivurs)
Frenemies
Villans
Volume
Halware
Sound (Dimension 23 version of Volume)
Nachos
List Of Aliens
These are a list of aliens of Echo Echo. Bold means appeared while normal have not appeared. Italic means planning to appear. (Please add what I miss)
Teleporting Potato (Portaler)
Ultimate Forms
Episodes
instead of having an Epiosode Guide, we have the episodes here!
Season One
Season Two
TBA Attack
Flaming Hot
The Ultimate Jealousy
OmniTure
From Halware To Kalware
Specials
Fan List
Add your signature in here!
Movie
Fan Episode
Put your fan episode links in here!
Shorts
See EEO Shorts
Gallery
Polls
Trivia
This is my first ever series.
I chose doing comics because writing is unoriginal, but it will still be in it.