Echo Chill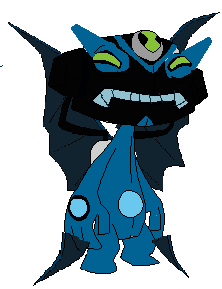 General Information
Species:
1/2 Sonorosian 1/2 Necrofriggian
Powers and Abilities
Abilities:
Cryokinesis
Freezing Breath
Wind Breath
Ice Generation
Temperature Resistance
Flight
Intangibility
Space Survivability
Sonokinesis
Sonic Screams
Audiokinesis
Echolocation
Enhanced Jumping
Enhanced Agility
Enhanced Strength
Enhanced Speed
Equipment:
Sonic Ice Knife
Details
Echo Chill is the Biomnitrix's DNA sample of a Sonorosian and Necrofriggian from the planets Sonorosia and Kylmyys respectively. He is free use.
Powers and Abilities
Echo Chill has Cryokinesis, Sonokinesis and Audiokinesis.
He also uses Big Chill's Freezping Breath, Wind Breath, Flight, Intangibility and Space Survivability.
He can also use Echo Echo's Sonic Screams and Echolocation.
Utilising both Echo Echo and Big Chill's abilities, Echo Chill can create a Sonic Ice Knife, which is a clump of ice in shape of a knife that is packed with sonic waves that can kill on contact. If the knife is put near the opponent, it can cause deafness, a constant ringing in their ears and sometimes paralysis and insanity.
Weaknesses
Echo Chill cannot duplicate himself and, if too far away from him, his Sonic Ice Knife can stay after detrasformation, possibly killing Ben or anyone else who touches it.
History
Appearances
Trivia
Echo Chill's Sonic Ice Knife is based of of Scream from Spiderman's Sonic Knife.
Credits to Waybig for the pictures.
Gallery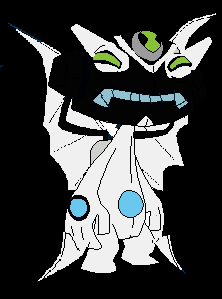 Community content is available under
CC-BY-SA
unless otherwise noted.