This is the version of Eatle that appears on Earth-68, the universe owned by Dioga beta. Eatle is an unknown alien species from an unknown planet.
Eatle (Earth-68)
General Information
Species
Unknown
Home World
Unknown
Body
Humanoid Shark
Humanoid Beetle
Powers and Abilities
Abilities
Crushing Teeth
Enhanced Strength
Enhanced Durability
Solid Object Ingestion
Lasers (after eating materials)
Details
First Appearance
Greetings From Techadon (John Smith 10)
Predator/Prey
Anubi Serket
Appearance
In UAF, Eatle resembles a robotic-shark-beetle creature. He is mainly black with blue jaws, waist and arm bands. Eatle has a beetle horn/shark fin on his head. He has oval-shaped eyes.
In Omniverse, Eatle's upper lip is completely covered by his lower lip, which now has different teeth, his tongue is now blue, and his horn now forks at the top, causing it to resemble that of a Japanese rhinoceros beetle. He now has two toes on his feet, and spikes on his arms and back of his legs. His blue has switched to gray, and he has green clothing all over his torso. He has a dark green, almost black shell on his back and armor of the same color.
In John Smith 10, he has his UAF appearance until Omniverse, where he gets his Omniverse appearance.
In Ryder 10, he has his Omniverse appearance.
Powers and Abilities
Same as canon Eatle.
Weaknesses
Same as canon Eatle.
Eatle appears as one of John's original 10 aliens. He has been stated to be one of John's favorites, even when not used often.
Appearances
By John
By Ultimate John
By John
By Past John
By Ahmad in John's body
By John
Dimension 13 (Kingdom Hearts)
Eatle is used by Kingdom Hearts character Xaldin, though it is a replica of him.
Eatle first appears in the wild, attacking John and Kai.
In Wild
By John
Eatle is one of Ryder's original 10. Unlike the other aliens, he is too heavy to ride a motorcycle. This changes once he gets the Tenn-Speed motorcycle, which can withstand his weight.
Appearances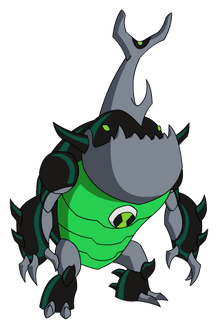 By 16 year old Ryder
By 17 year old Ryder
By 18 year old Ryder
Eatle is an alien in the Dueltrix. And while not directly used, it is used to create fusion aliens.
Eatle is an alien used by Terence.
Eatle is an alien available by several characters.
See also
Ryder 10
Secondary Enemies
Bounty Hunters (Kraab, Goyle, Sixsix, Sevenseven, Eighteight, Vreedle Brothers) | Vulkanus (Crabdozer) | Seebik | Psyphon's Gang | Dr. Animo | Zs'Skayr's Followers (Viktor, Yenaldooshi, Mummy | Dr. Psychobos | Road Crew (Baron Highway, Road Rage, Fistrick, Corvo) | Spark Plug | Esoterica | Lucubra | Incurseans (Milleous, Jorgen Von Strangle)
Omnitrixes
Omnitrix | Nemetrix | Ultimatrix
Omnimania
Omnitrixes
Omnitrix (Ben, Megaman) | Prototype Omnitrix (Ryder, Jane, GIR, Looney John) | Dueltrix (Yami) | Mutatrix (John) | Nemetrix (Nails, Zed) | Ultimatrix (Albedo)
Community content is available under
CC-BY-SA
unless otherwise noted.