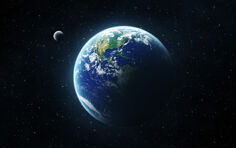 Earth-107 Theme Song: Noam Kaniel - "A World without Danger"
Earth-107 or Dimension 107 is the main universe of Bax 10: When Omnitrixes Collides. Much Ben 10's Earth it is not very much different from Baxter's Earth but it does have it's own ways of life.
Timeline
Past & Present Earth
During the early days of Earth in 2019 humans were already visited by other beings in the universe and beyond by Galvans, Mechamorphs, Loboans and many other species a like and have settled on Earth and also advanced Earth into the future age making 2020 the actual future. The inhabitants of planet all lived along side with each other in peace and harmony uniting the species of all kinds.
Invasion of Ucrona
Earth and it's inhabitants used to live in peace and harmony until the evil King Ucrona came to Earth to conquer it and takes it resources while enslaving the inhabitants of the planet. The people didn't stand for it, stood together joining forces with the United Colonies which begins the long war for Earth's freedom.
Forming Plumber Enforcers
The war continues to rage for 10 years as the U.C.'s forces were destroyed by Ucrona's army nearly taking the world into his own hands. Until one man named Shaun Baxter and his team formed a new organization called the Plumber Enforcers with his Baxatrix helped Earth stopping him from taking Earth making Baxter and his friends the defenders of Earth.
Rebuilding Earth
Since the end of the 10 year long war Earth was slowly rebuilding and with the assist of the Neo MechaMorphs helped sped up the process. Bringing Earth back to its normal and healthy state as of now with the Plumber Enforcers are now Earth's Defense along side with Baxter's team.
Locations
Queen's; New York City
Plumber Enforcers Headquarters
P.E. Prison
Known Inhabitants
Associated Planets
Trivia
Community content is available under
CC-BY-SA
unless otherwise noted.