IS THE 17th epi. of john 10
plot
Fast fire:(runs to shadow)flaming punch(punches shadow but shadows block its)oopss.....(thrown by shadow)ahh!!
benjamine:sigh!(pulls out a gun)boom!!!(shoots a thick laser)
Fast fire:hey grime what are you doing
grime(in the control room):im gonna make our base explode
Fast fire:what your crazy
grime:hehehe(hacks a wire)
justine:i can handle this i think his gonna plant a bomb on the control room(runs to the control room)
Fast fire:benjamine keep shooting
benjamine:i know(got punched by flameonous)ow
Fast fire:the big guy(slaps the coolnitrix symbol)
Flame hazard:FLAME HAZARD how you like me now flameonous
Flameonoous:you think you can beat me
Flame hazard:yeah
Flameonous:then think again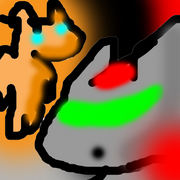 Flame hazard:really(slaps the coolnitrix symbol)
Sup.flame hazard:SUPREME FLAME HAZARD now i evolved
flameonous:oh-uh
benjamine:uh uh
(sup.flame hazard summons some rocks and lavva)
benjamine:ahh JOHN!!! help
sup.flame hazard:aw come on(Slaps the coolnitrix)
splash:SPLASH(transform)SUPREME SPLASH!!!!!!!!!!!!!!!!!!!!!!!!!!!!!!!(goes to benjamine)
sup.splash:(saves benjamine)*huff huff*(reverts back to john)
benjamine:ugh
shadow:hehehe you think you beat us you did not
john:i better RUNAWAY!!!(got grip by grime then dodges cyclunus' laser)oh-uh
benjamine:we're dead
major events
characters
heroes
villains
flameonous
aliens used
Community content is available under
CC-BY-SA
unless otherwise noted.