Dupligato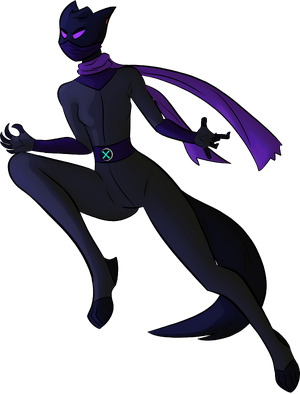 General Information
Species:
TBA
Home World:
TBA
Body:
Humanoid Cat
Powers and Abilities
Abilities:
Shadow Clones
Shadow Travel
Agility
Details
Classification:
Fauna
Motif:
Black Cat
Ninja
First Appearance:
New X World
Dupligato
is an alien from the series
Tech Cross
.
Abilities
Dupligato is an acrobatic cat ninja with the ability to travel through shadows and create shadow duplicates of herself.
Her claws are sharp enough to rend steel, and if necessary, she can use her tail as an extra limb to strike opponents with.
Weaknesses
Dupligato isn't particularly durable, relying more on her ability to dodge blows than any sort of ability to tank them.
Appearances
Etymology
Dupligato's name is a combination of the English word "duplicate" and the Spanish word "gato", meaning "cat".
Motif
Dupligato is based on associating the natural stealthiness and agility of a cat with that of a ninja.
Trivia
Dupligato's name was originally going to be "Duplicat", but it was changed to avoid looking like I was just misspelling "Duplicate" all the time.
Dupligato's tail puffs up when she becomes startled or stressed out.
Community content is available under
CC-BY-SA
unless otherwise noted.