This is the version of Driscoll that appears on Earth-68, the universe owned by Dioga beta. He appears in the John Smith 10 franchise, John Smith 10: Final Fantasy and Ryder 10.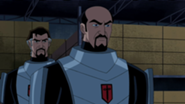 Appearances
Driscoll works for Shinra, being the leader of the Turks, their special task force. After falling into the Lifestream, he becomes part Galvanic Mechamorph.
Appearances
Driscoll is the leader of a faction of the Forever Knights. He is in search of the Ultimate Weapon. He attacks the Mt. Rushmore base for the Sub-Energy. He's defeated and driven off. When Ryder is caught in the Forever Knight civil war, Driscoll recruits Ryder to help stop Chadwick. He joins Sir George's united Knights, and is revealed to have Kinecelerans DNA, his right arm being so.
Ryder 10
Secondary Enemies
Bounty Hunters (Kraab, Goyle, Sixsix, Sevenseven, Eighteight, Vreedle Brothers) | Vulkanus (Crabdozer) | Seebik | Psyphon's Gang | Dr. Animo | Zs'Skayr's Followers (Viktor, Yenaldooshi, Mummy | Dr. Psychobos | Road Crew (Baron Highway, Road Rage, Fistrick, Corvo) | Spark Plug | Esoterica | Lucubra | Incurseans (Milleous, Jorgen Von Strangle)
Omnitrixes
Omnitrix | Nemetrix | Ultimatrix
Community content is available under
CC-BY-SA
unless otherwise noted.