This page is preserved. A better version of this page can be found here.

This is about the Simien 10 alien. You may be looking for the Team Tennyson alien DrillBit.
Drillbit
General Information
Species
Terrageonian
Home World
Geon
Body
Humanoid
Powers and Abilities
Abilities
Geokinesis, sharp claws, fast driller
Details
Drillbit is a alien in the series Simien 10. He is one of Simien's aliens. Though his big weakness he is used a lot.
Powers
Weaknesses
Light (however in the first season final, Zynon created a light protecting suit for him, that every time that Simien transformed into him he had the suit, however it can still be ripped)
Species and Planet
Species:Terrageonians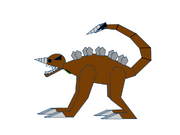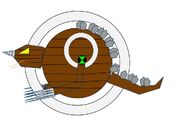 Planet: Geon
Appearence
He has a drill for a nose
He has sharp claws that can extend from over his hand
His back has gray Stegosaurus-like plates
He is brown
He has a tail
Appearences
"Who Kidnapped Omnimorph Pegajoso?"
"Honey, I shrunk the Aliens"
Kurt 10