This is the version of Driba that appears on Earth-68, the universe owned by Dioga beta. He appears in Ryder 10 and Jane Smith 10.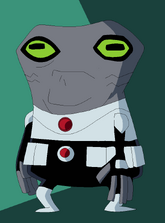 Appearance
Driba is fatter and larger than a regular Galvan. He wears a Plumber suit.
Driba appears at the Mt. Rushmore Plumber HQ alongside Blukic. The two are tech support, but are usually arguing and oblivious to the actual security systems, especially when there's an intruder. However, the two are usually reliable.
Appearances
Blukic and Driba appear as Plumbers, working on removing the Technowarg from Tiffany. They are later guarding the Null Void Projector, when they are put to sleep.
Ryder 10
Secondary Enemies
Bounty Hunters (Kraab, Goyle, Sixsix, Sevenseven, Eighteight, Vreedle Brothers) | Vulkanus (Crabdozer) | Seebik | Psyphon's Gang | Dr. Animo | Zs'Skayr's Followers (Viktor, Yenaldooshi, Mummy | Dr. Psychobos | Road Crew (Baron Highway, Road Rage, Fistrick, Corvo) | Spark Plug | Esoterica | Lucubra | Incurseans (Milleous, Jorgen Von Strangle)
Omnitrixes
Omnitrix | Nemetrix | Ultimatrix
Community content is available under
CC-BY-SA
unless otherwise noted.