Diamondhead is the DNA sample of a Petrosapien from the planet Petropia.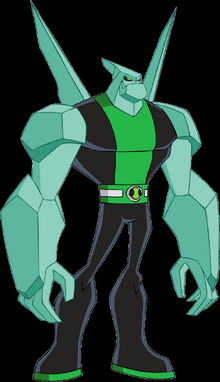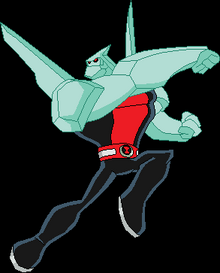 Appearance
Ben as Diamondhead
Diamondhead retains its Ominverse overall design.
Albedo as Diamondhead
He looks the same, but its clothes, Ultimatrix symbol and eyes are red.
Powers and Abilities
Diamondhead is one of the strongest aliens in the Omnitrix or Ultimatrix as with hand-to-hand combat. He can morph his limbs to weapons and has enhanced strength, durability, and crystallokinesis.
Diamondhead can build structures out of its diamonds.
Since Diamondhead's body is composed of material similar to Taydenite, he can break a Prypiatosian-B suit.
Weaknesses
Diamondhead can be cracked by a strong vibration.
Appearances
At Azmuth's College Aliens
Community content is available under
CC-BY-SA
unless otherwise noted.