Diamondblast
General Information
Species
1/2 Pyronite
1/2 Petrosapien
Home World
Pyros/Petropia
Body
Flameant Crystaline humanoid
Powers and Abilities
Abilities
Pyrokinesis
Enhanced Strength
Enhanced Durability
Pyro Immunity
Cryo Immunity
Flight (via Propulsion)
Limited Terrakinesis
Cryokinesis (cold virus)
Enhanced Speed (via Propulsion)
Crystallokinesis
Crystaline Constructs
Shard Projectiles
Explosive Projectiles
Weapon Manifestation
Regeneration
Body Alteration
Energy Refraction
Energy Redirection
Energy Absorption
Aging Immunity
Heat Resistance
Space Survivability
Enhanced Dexterity
Details
Diamondblast is a fusion between Heatblast and Diamondhead and forms part of the Biomnitrix Unleashed project, and is one of the fusions from the DNA Lab. Remake by Rizegreymon22 from Deviantart.
Appearance
Has the exact shape of Diamondhead's body and head, his body is made of lava but instead of Heatblast's rocks is covered with crystal fragments, and these fragments are arranged in a symmetrical order with the shape of Diamondhead suit, he has a flame surrounding his head like Heatblast, has Heatblast's feet and his lava hands with the shape of Diamondhead's hands, the two large crystals of his back are made of lava with a small crystal line above, and use Diamondhead's belt with the Biomnitrix symbol on it. 

Abilities
Generates heat.
Shoots fire through his hands.
Has immunity to heat, fire, magma, lava, and cold.
Can generate flaming crystals from the ground and make them levitate.
Can turn his arms into shields or sharp blades and form razor-sharp crystals from his body.
His crystals are completely resistant, allowing lasers and bullets to bounce off.
Can shoot flaming darts out of his hands.
Can summon large flaming crystals from the ground which he can control and cause to fly up like a meteor.
Weaknesses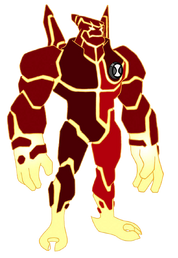 If he is cold or sick, it could cause a side effect that would make his heat becomes cold and his pyrokinesis is replaced by cryokinesis.
Water extinguishes his heat.
He is still partially the prey of Crabdozer.
Can crack and shatter if impacted with enough force or exposed to strong sonic vibrations and might even fall unconscious.
While he can regenerate limbs, there is a limit to how much damage he can recover from.
Biomnitrix Unleashed Fusions
Community content is available under
CC-BY-SA
unless otherwise noted.