The Diamonas are Jewels 's species in BHMO and BTHOAA. They live on the planet Trinants.
Appearance
They are a triangular shape with star for shoulders, six legs and three fingers on each hand. They are blue all over EXCEPT the stars on them are yellow. He can talk even though his mouth is a lightning bolt.
Powers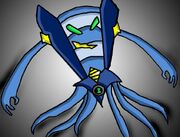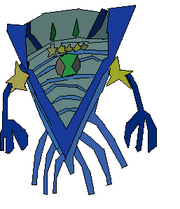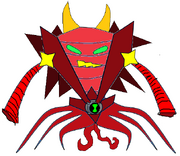 The Diamona's have a great amount of power that Ben has yet to find out. There known powers are turning into a big blue sharp diamond and hovering, shooting out jewels (diamonds, rubies etc.) from any part of there body. They can shoot out shooting stars, they can make shooting stars and they can control them. He can shoot lightning from his hands, he can direct lightning from the sky and he has control over static electricty.
Weaknesses
The Diamona has some very stupid weaknesses. The main one is an Aerophibian's Neuroshock blast. If they are hit by one it can eternaly damage them or worse, kill them. Another weakness are boulders. If there are boulders it will make them lose their abilities. It is unknown why. Legend says that their god, Roteria, had made boulders a sign of bad luck and if there was one nearby you would be cursed. Another weakness is Black Widow bites. This is a weakness for the humans too.
Known Diamona's
Jewels
Ultimate Jewels (Evolved, Not unlocked yet)
Evolution
The evolved version has tornadoes for hands, two tails, spikes, horns and is red. They now have weather manipulation, projectile spikes and enhanced agility. There only current weakness is the black widow bite.
Trivia
The Awesome Jack's first fanon species.
Although the evolved version was never seen, it was still created for future use.
OmniCorp
Original Characters
Snax - Gunny - Rocky - Gup - Cake - Tech-I - Nelg - Marge - Scott - Tebb - Chandler - Ahsas - Seeryt - Lyrad - Kyle - Xione - James Roarin - Hulo Marret - Blake Howard - 2.0 - Rackot - Americana - Flitch - Verstinary - Axel - Big Tiny - Shalsh - Judith - Donstone - H2-W8 - Alfred Wellington - Mech - RQ48-B - Rammer - PH5 - Melk - PT-02 - Beditor - Preeco - Chuck Norris - Bruce Lee - Lauren Genare - Moon Moon -
Original Villains
Jadan - Dint - Tygaxx - Kobir - Yaglan - Mesvalur - Pyxlem - Ueviss - Eldirir Arewa - Nurmee - Improbe - Gertrude Tate - Syraxx - Rista - Dr. Stagnog - Cincirius - Fick Marts - Alissa Rutells - John Darklom - Liza Encloffen - Mike Brannigen - Drench Boyton - Malwarette - Kon - Imperial - Reboot - Trooper - Howler - Ricknot - Fedgemen - Calcora - Heinrik Feeflemeter - Prince Bron Redwind - Princess Zantanna Redwind - Princess Taya Redwind - Cansted - Richnee - Daloop - Jeckard - Tammible - Digous
Nemetrix Aliens
Boldersmash - Unknown Meowster Predator - Unknown Whiplash Predator - Unknown Terrack Predator - Unknown Scaline Predator - Unknown Sharknado Predator - Unknown Bloat Bug Predator
Species
Crata - Diamona - Contrainiod - TBA
Community content is available under
CC-BY-SA
unless otherwise noted.