Darkside
is a villain that appears on
Earth-68
. It first appears in 
John Smith 10: Kingdom Hearts
.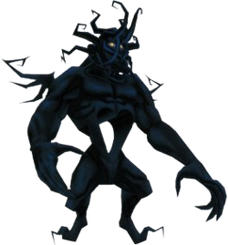 Appearance
Darkside is a large, muscular humanoid figure, its entire body being black. Its head is covered in tentacles for hair, encompassing its face. It has a large hole in its stomach in the shape of a heart, with zigzag legs. It has small, glowing yellow eyes piercing through the snakes. Its arms are long.
Powers and Abilities
Darkside is quite literally the essence of darkness. It has enhanced physical strength due to its physique, and has been strong in combat, a match for Way Big and ablet to defeat Humungousaur. Its body being made of darkness, it has the power of regeneration, stretching and size alteration. It has the ability to manipulate darkness, able to form a fist of dark energy, fire spheres of dark energy, and fire beams of dark energy.
It also has the ability, as John's shadow, to shapeshift to match John's appearance. That means he can look like any alien he turns into, without their powers.
It was resistant to being absorbed back into John's heart due to him having Kairi's heart at the time, which was void of darkness.
Weaknesses
Darkside is vulnerable to light, and is easily defeated by lasers of pure light.
It is weak to absorbtion, as was absorbed back into John's heart after he got his back.
Trivia
See Also
Community content is available under
CC-BY-SA
unless otherwise noted.