Dark Mana is a variation of Mana found on Earth-83.
Origin
Dark Mana, unlike its regular counterpart, is not naturally produced by or connected to lifeforms. It is essentially Mana that has been corrupted by intense suffering of the lifeforms around it, warping its appearance and properties.
Properties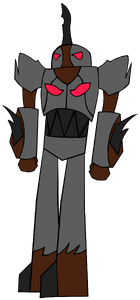 Though normal dispersed Mana flows through the universe at all times, it is generally invisible; Dark Mana, on the other hand, can be seen, appearing as a thick fog almost impenetrable to the naked eye. When Dark Mana is concentrated into energy, it can appear as either a dark purple or a vibrant, blood-like red, as opposed to the pink or blue colors of normal Mana.
Dark Mana's physical properties are generally the same as normal Mana, though concentrated amounts of even passive Dark Mana can injure or even kill most lifeforms
Users
Known users of Dark Mana include:
Trivia
Dark Mana appears as an environmental hazard in the Spooktober RPG.

Assuming the game mechanics are accurate to canon, Triedge is immune to the negative effects of Dark Mana.
See Also
Community content is available under
CC-BY-SA
unless otherwise noted.