This page is preservec. A better version can be found here.
Dark Hole
General Information
Species
Calabozon
Home World
Buconeron
Body
Humanoid
Powers and Abilities
Abilities
Creating Portals
Details
Dark Hole is a alien in the series Simien 10. He is one of Simien's aliens. He is used alot by Simien.
Powers
Creating wormholes to anywhere he wants
Weaknesses
His portals can be also used against him
Species and Home
Species: Calabozon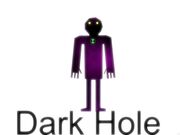 Pocket Dimension: Buconeron
Appearance
He is very humanoid
His only facial feature is eyes
His skin's pattern is space (no stars) with many nebulas around
Quotes
Simien: (turning into Dark Hole) What can this guy do?
Zynon: Calabozons can create wormholes to where ever they want.
Zyrokks's drone: (shoots a laser to Simien and Zynon)
Simien: (as Dark Hole) (creates a wormhole and the laser flies in to it) Sweet!
Zynon: Now where did you put the other side?
Simien: The other side?
(scene passes to a Galvan lab) Galvan: I am going to finish this thing now! (laser comes from a portal from the ceiling, blasting the machine the Galvan worked on) Darn it!!
Simien: (turns into Dark Hole) Ah man. What do you have against BoneCrusher?!
Zyrokks: (shoots electricity at Simien and Allen)
Allen: Quick! Wormhole! NOW!
Simien: (males wormhole) Wonder where it went.
(scene cuts to a forest on an unknown planet) Vorkus: Today, I'm going to make something of myself...for once. (wormhole opens and Vorkus gets electricuted) Before I die (eats a pie and passes out).
Appearences
"Who Kidnapped Omnimorph Pegajoso?"
"The Day has Come" (by Zyrokks)
"Honey, I shrunk the Aliens"
Gallery