is 14th episode of john 10
plot
john was walking with justine,benjamine and matthew then shadow kinapped benjamine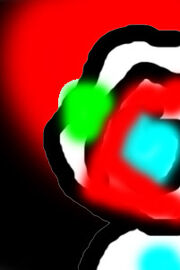 john:benjamine!!!!(slaps the coolnitrix)FAST FIRE!!!!!!!!
(john follows shadow then john bumped on flameonous) fast fire:ow! flameonous:HMPH!!(Punches fast fire) fast fire:DAMN (Slaps the coolnitrix)SOUND GUY!!!!!
sound guy:i better make some noise!!!!(sent some sonic discs)
flameonous:ahhhh(lies down)ugh
sound guy:(flies inside shadow's base)oh great!
shadow:choose one of these let me kill you so that i can get the coolnitrix or i kill benjamine
sound guy:i choose OR(shouts)
shadow:hmph(Destroy 1 of the disc)die(and blast a ll the disc)
sound guy:oh no
shadow:hehehehehe(chokes sound guy the throws it on the floor)now ready to die
sound guy:i think no!(slaps the coolnitrix)
snow guy:great a new alien that is useless just an ic----ow!!!(punched by shadow)
snow guy:wow that doesn't hurt maybe i can shoot shards(shoots shard)
shadow:ow
snow guy:ragh!!!!!(shoots shards on shadow then runs to benjamine)
benjamine:ugh wait why am i in the bed
john:(winks)hehehe END.
major events
characters
heroes
characters
matthew(cameo)
justine(cameo)
villains
flameonous
Community content is available under
CC-BY-SA
unless otherwise noted.