John 10
Season season 1, Episode episode 1

Air date
Nov.25.2011
Written by
ultimate echo echo 330
Episode Guide
Previous
{{{previous}}}
Next
first time
plot
john is on the house
john:uh.it so boring maybe i better watch in the sky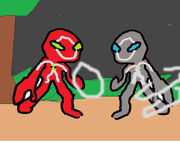 (john go's out then watch the star then he saw a meateor)
john:aahh!!
BOOM!!
john:what is this a watch in outer space
(then the watch get stuck on his wrist then a hologram of twist appear)
john:this is cool (clicks the coolnitrix)
john:woah
john(as twist):twist!!
twist:woah what happend why is my skin is red
unknown:cause you transform into an alien
twist:hey return me to human (twist blast a wind)
aeron:i won't.my name is aeron i created that watch.the coolnitrix (aeron blast a wind to twist)
twist:augh!!.wait what will happen if i slap this
(slaps the coolnitrix symbol)
(reverts back to john)john:wow
aeron:i don't like to fight you
john:fine.then how do i remove this watch
aeron:you can't remove it unless you die
john:(gasp)maybe i can use this to save the world
aeron:good luck with that(fetch by a spaceship)
THE END
Major events
Characters
heroes
john (main character)
villains
aliens used
Community content is available under
CC-BY-SA
unless otherwise noted.