This is the version of Colonel Rozum that appears on Earth-68, the universe owned by Dioga beta. He appears in the John Smith 10 franchise and Ryder 10.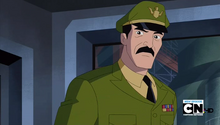 Rozum first appears when he calls for John to help with a situation involving Dr. Vicktor. He later calls on John to investigate the Garbage Monster.
Appearances
Rozum has a much more prominent role in this series, as one of the lead Villains. He is the leader of SACT, and the boss of Lt. Steel. After Steel and Cooper's failure to stop Ryder at Area 51, Rozum assigns Steel to work with Viktor to re-capture the escaped prisoners, including Ryder.
When Steel returns having failed again and arrested Viktor, he was angry and displeased with him. He ordered Steel to go after Ryder, despite Steel's protests. Then, Brago appeared, ruining his operations.
Cooper becomes one of Rozum's most trusted soldier after Steel leaves for the Plumber. He sends Cooper to retrieve Lucky Girl, which he does. Rozum convinces Lucky Girl to assist them in catching Ryder. He later inspects the ruins of a Forever Knight castle, and finds the Forever Seer, who tells him of a trans-dimensional attack. In an attempt to counter this, he has Cooper fix a time machine, testing it by going back and trying to prevent Ryder from being born. Ryder stops him, and later destroys the time machine.
Ryder 10
Secondary Enemies
Bounty Hunters (Kraab, Goyle, Sixsix, Sevenseven, Eighteight, Vreedle Brothers) | Vulkanus (Crabdozer) | Seebik | Psyphon's Gang | Dr. Animo | Zs'Skayr's Followers (Viktor, Yenaldooshi, Mummy | Dr. Psychobos | Road Crew (Baron Highway, Road Rage, Fistrick, Corvo) | Spark Plug | Esoterica | Lucubra | Incurseans (Milleous, Jorgen Von Strangle)
Omnitrixes
Omnitrix | Nemetrix | Ultimatrix