Chiller is a Freezesect from Onsect. His Omnitrix is in replace of  his right eye. He is 5 ft. tall.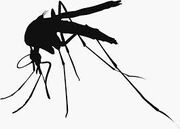 Powers
Chiller can fly. He can shoot an ice laser from his probiscus. Chiller can alo create force fields.
Appearences
(Chiller battled King Cosmos)
(Chiller saved Quin from a laser blast)
(Chiller battled Vilgax the Third and Newtreon)
Gallery
Chiller's Hologram (Credit to Bry)
Community content is available under
CC-BY-SA
unless otherwise noted.