Cel-R-Brate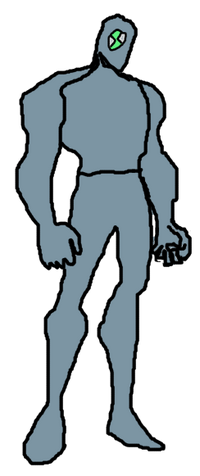 General Information
Species:
Galvanic Synthroid Type H
Body:
Robotic Humanoid
Powers and Abilities
Abilities:
Happiness Inducement
Confetti Projectiles
Enhanced Strength
Details
Namesake

Kool & The Gang - Celebration
Cel-R-Brate is the Omnitrix's sample of Galvanic Synthroid Type H, which currently inhabit Euphorin III. He is free use, and planned to appear in TNO.
Appearance
Cel-R-Brate is a metallic humanoid with no face. It has holes on its palms, that can open and close at will. It's Omnitrix symbol is where it's eye would be.
Powers and Abilities
Happiness Inducement

Cel-R-Brate can induce a strong feeling of Euphoria in anyone who is nearby.

Confetti Projectiles

Cel-R-Brate can shoot confetti out of the holes on his palms. This confetti will make anyone it touches forget about everything and enter a dazed state of pure joy.

Enhanced Strength
Weaknesses
Cel-R-Brate can easily be shorted out by water.
History
Appearances
Trivia
This was originally planned to appear in Hell on Earth, but constrictions with Creeper's obsesssion with making song related aliens prevented this.
Community content is available under
CC-BY-SA
unless otherwise noted.