Capgrass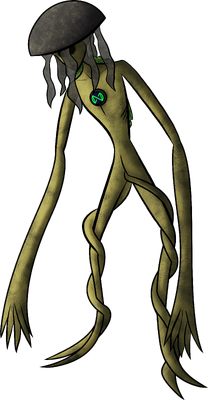 General Information
Species:
Impostherba
Home World:
Terranoia
Body:
Plant-Like Humanoid
Alternate Counterparts:
Capgrass
Powers and Abilities
Abilities:
Organism Mimicry
Plant Biology
Details
Classification:
Flora
Motif:
Capgras Delusion
Swamps
User(s):
Haven De La Vega
First Appearance:
TBA
Capgrass is an alien in the series Investigation Neon.
Abilities
Capgrass can take on the form of any organism they touch, flawlessly imitating their physical appearance and properties.
Capgrass is able to merge with various forms of plant life, regenerate from almost any injury, and cause plants to sprout from any surface they come into contact with.
Weaknesses
Capgrass is incredibly weak to fire, and is furthermore vulnerable to toxic substances such as weed killer and the like.
Appearances
Etymology
"Capgrass" is a combination of the French surname "Capgras" and the word "grass".
The species name "Impostherba" is derived from a combination of the words "imposter" and "herb"
The planet name "Terranoia" is a portmanteau of the words "terra" and "paranoia".
Motif
Capgrass is based on and named after the Capgras Delusion, a disorder where those affected believe that a close family member or pet has been replaced by a nearly identical imposter.
Trivia