Cannonbolt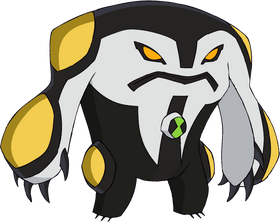 General Information
Species:
Arburian Pelarota
Home World:
Arburia
DNA Source:
Unknown Arburian Pelarota
Body:
Pillbug
Alternate Counterparts:
Cannonbolt
Powers and Abilities
Abilities:
Armored Ball Form
Details
Classification:
Fauna
Voice Actor:
David Kaye
First Appearance:
Re:Start
This is the main version of Cannonbolt used on Earth-83. He primarily appears in Ben 10: Milky Way Race.
Abilities
Cannonbolt's abilities include:
Armored Ball Form
Speed Rolling
Enhanced Durability
Appearance
Cannonbolt's appearance is mostly identical to his appearance in Omniverse, save for his outfit resembling Ben 10,000's uniform for the alien.
Weaknesses
Cannonbolt is top-heavy, making him unbalanced and clumsy when not rolled into a ball.
Appearances
Re:Start - Used to crush a Sand Ripper by falling from orbit.
Community content is available under
CC-BY-SA
unless otherwise noted.