C'arbon is a Prypiatosian-B and Albedo's partner in Andromeda Problems.
Personality
C'arbon would do anything in order to get free from his suit.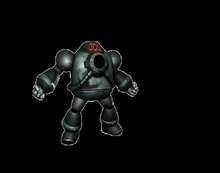 Powers and Abilities
He has the same abilities as a normal Prypiatosian-B which include: Energy Blasts, Radiokinesis, Heat Generation, Enhanced Strength, Enhanced Durability, Pyro Immunity and Cryo Immunity.
Weaknesses
His powers are weakened by its containment suit.
Etymology
C'arbon is a play on carbon, an element that has a small chance to be radioactive.
Appearances