Brainstorm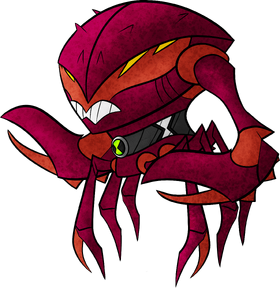 General Information
Species:
Cerebrocrustacean
Home World:
Encephalonus IV
DNA Source:
Unknown Cerebrocrustacean
Body:
Crab
Alternate Counterparts:
Brainstorm
Powers and Abilities
Abilities:
Enhanced Intelligence
Technokinesis
Electrokinesis
Mnemokinesis
Levitation
Wall Scaling
Details
Classification:
Fauna
Voice Actor:
Corey Burton
First Appearance:
TBA
This is the main version of Brainstorm used on Earth-83. He primarily appears in Ben 10: Milky Way Race.
Abilities
Brainstorm's abilities include:
Electrokinesis
Enhanced Intelligence
Appearance
Brainstorm is somewhat bulkier than his OV appearance, with his head remaining about the same size but his body growing to support it more.
He now has six legs instead of the four he had in OV, with the front two legs having small claws at their ends. His claws are smaller and stockier than before, giving him more pinching power than before.
The Omnitrix symbol is on his belt.
Weaknesses
Brainstorm's powers are rendered useless if he's somehow unable to concentrate. In addition, keeping his head plates closed when he attempts to release electricity will injure his brain.
Appearances
Trivia
Brainstorm wasn't initially planned to receive a redesign for Milky Way Race, but it was decided to make one in honor of Brainstorm Fest.
The claws on Brainstorm's front legs take inspiration from the legs of crayfish, a decapod crustacean related to the crab.
Community content is available under
CC-BY-SA
unless otherwise noted.