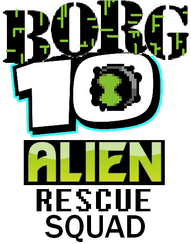 Borg 10: Alien Rescue Squad
is a series by
Turu17
.
Ben
is not the main character, instead
Borg
, a roller skating teenager, is the new main character.
Borg
,
Crown
,
Pink
,
Rick
,
Emma
,
Agita and Akito
and his friends go into space helping aliens in need and, making new friends... and new enemies as well, their mission is to bring peace in all the universe. The
Omnitrix
of this series is the
Omnitrox
, and its creator is BronZZ. They get missions by the plumbers to save others. For more charecter info,
click here
and go on this (
Borg10 Series).
As a space ship, they use the
X-Cruiser 3700
. Also go on
Borg 10: Alien Rescue Squad Theme Song
.
Season 1 Episodes
The Chosen One!!!
Dino Trouble
Ready, Set, Go! (its game Borg 10: Ready, Set, GO!)
The Rise of Ultimate Vilgax (Part 2)
The Rise of Ultimate Vilgax (Part 3) (season finale)
Season 2 Episodes
Season 3 Episodes
Old Friend, New Member!
The Hero Force!
Season 4 Episodes: 
Fan List
Gallery
Community content is available under
CC-BY-SA
unless otherwise noted.