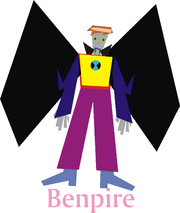 Benpire
is a
Nosferian
from Planet
Nosfera
. He is from a same species as
Myster
. He got this alien from a Nosferian named Gon.
Appearance
Benpire looks like a Courtly Vampire with bat-like wings. He has blue fangs with cat-like eyes. He still retains Ben's brown hair. His wardrobe changes randomly.
Species
Noseferians are strange, nocturnal species from Planet Nosfera. They are said to be descendants of Vladats, a race wiped out by Transylians. They are said to be malignant, sly and intelligent being the tenth intelligent species in the universe.
Planet
Nosfera is a cold but dusky world, a planet which is nor day or night. The planet is so cold that there are prominent jagged mountain peak called the Infinity Mountains on the north and south poles. The planet is also said to be a time-lost Anur Vladias.
Abilities
As a Vampire like alien, he is able to conjure purple, pink or black blasts from it's wings.It's speed is not really fast but it's agility is what makes Ben like this alien. It's strength is moderate being able to lift a tree. The power of this alien is base on the phases of the moon and the amount of darkness.
Weakness
Magic being repelled back
Burned at Light
Community content is available under
CC-BY-SA
unless otherwise noted.