Ben 10+0 is a series bysol and brian
New sequel coming soon! Check out Ben Ten + 0: Season Two: The Unleash Reload, also known as Ben 10 Relished, coming soon to theaters near you. Also, get hype for the new movie Ben Ten + 0 + Infinite.
plot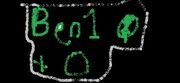 Ben Tennyson returns with the all-new and cool Ultimatrix 2.01 and defeats evil!!! With the help of his cousin Gwen and her new Ultimatrix 2.010, and his friends Kevin and Rook, Ben is ready to take on anything!!!!!!!
Characters
Good guys
Bad guys
Episodes
episode one: Ben Ten Returns episode two: The evil Psychobus episode 3 Canon bull: episode 4: Bugs stuff
also very important crossover episod
Fan List *~~
~~ add your signatuer here using FOUR wobly lines
Community content is available under
CC-BY-SA
unless otherwise noted.