Ben Tennyson is an alternate version of Ben Tennyson and a hero from Dimension 23 who first appeared in the Omniverse episode Store 23.
Appearance
Ben 23 is now a 16-year old teenager who wears a blue Alien Force-like jacket with a 23 marked on it, a white shirt, a golden necklace with the Power Watch symbol, a red scarf, a white hoodie, a blue pouch on his waist, black pants, white and blue sneakers and he wears the recalibrated Power Watch on his left arm. He also dyes his hair blue now.
Personality
Ben 23 is arrogant, but he's a lot better than when Ben first met him. One thing that sets Ben 23 apart from Ben Prime is how creative he is when naming his aliens. While Ben Prime used clever wordplay when naming his aliens, Ben 23's names tend to be somewhat simple-minded/lazier. Ben Prime even points out Teeny-Weeny is a terrible name for Ben 23's version of Nanomech.
History
Powers and Abilities
Equipment
Ben 23 possesses an Omnitrix with a blue/gold color scheme, reflecting 15-year-old Ben Prime's green/black recalibrated Omnitrix.
Accessible Aliens
Weaknesses
Ben 23's battle prowess is almost entirely self-taught. Much like Ben Prime when he was younger, Ben 23 tends to fight recklessly in front of people and often has little to no strategy when fighting his enemies.
Appearances
Trivia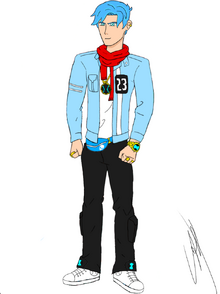 Older Version: