TV-14

DLSV


This content contains material that may be unsuitable for children age 14 and below.
The following additional labels have been provided:



Ben 10 - Hero
Creator
Lentus07 0
Seasons
1
Episodes
7
Created on
May 15, 2020
Rating
TV-14
Preceded By
Omniverse
Airdate
(May 16, 2020- )
Ben 10 - Hero is a series by Lentus07 0 that follows Ben Tennyson as he mentors an unofficial Plumber trainee named Blu Summers, who has minor Celestialsapien powers.
It was created on 16 May, 2020.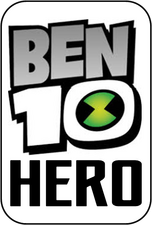 Overview
This is a passion project by a Ben 10 fan who lost interest in the series by season 3 of Omniverse in 2013, and gained it back in 2019 again when he revisited a Ben 10 comic that he drew as a kid. In this series Ben is a fit 17 year old; who has unlocked master control, has lost someone close (to be determined who), and can activate flight mode on the Omnitrix. There's an OC who's introduced in this series, along with a few new aliens.
This series takes place the year after the finale of Omniverse. It has a more mature tone compared to the rest of the shows.
Episodes
Main article: (Ben 10 - Hero) Episode Guide
Fans
Add your signature (~~~~) on a new bullet here.
Characters
Heroes
Ben Tennyson
Blu Summers
Rook Blonko
Gwen Tennyson
Villains
Vilgax (Vilgax X)
Khyber the Huntsman
Plimax
The Anti-Ben Group
Aliens
Omnitrix Aliens (by appearance)
Cannonbolt
Humungousaur
Alien X
Swampfire
Clockwork
Jetray
Ripjaws
Crashhopper
Kickin Hawk
Atomix
HumungoEchoEcho (Bio Mode - 2033 Dream Sequence)
Atomic-X (Bio Mode - 2033 Dream Sequence)
Fasttrack
Four Arms
Spitter
Ultimatrix Aliens (by appearance)
Ultimate Heatblast (2012 Dream Sequence)
Trivia
Community content is available under
CC-BY-SA
unless otherwise noted.