TV-14

DLSV


This content contains material that may be unsuitable for children age 14 and below.
The following additional labels have been provided:
Assault
Terrorism
Murder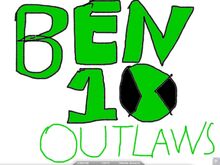 Ben 10: Outlaws

Genre:

Action, Adventure, Drama

Created by:

Redtags

Written by:

Redtags

Creative Director(s):

Redtags J2011

No. of seasons:

1 ordered

No. of episodes:

6 ordered, Pilot to air

Due to Air:

15/08/2015
The series tagline:
| | | |
| --- | --- | --- |
| " | Run..Run like the wind.... | " |
Ben 10: Outlaws is an up and coming action-drama miniseries by Redtags and co-writers to be announced. The series is due to premiere in Mid-August.
Overview
Taking place after the Events of the Omniverse Series Finale, we meet Ben Tennyson, Gwen Tennyson, Kevin Levin and Rook Blonko on the run. It all spiralled from the Universal Road Trip gone wrong.... With Alien Hunters, searching far and wide for a taste of Ben's blood, they must run, run like the wind.
They are Outlaws.
Fanlist
This space will be dedicated to the fans of this series, when it drops: Just sign below:
J2011
TheUltimateSideman
J2011's brother TJ
Episode Guide
Season 1
TBA
TBA
TBA
TBA
TBA
Heroes
Aliens
Alien
Species
Alien X
Celestialsapien
AmpFibian
Amperi
Arctiguana
Polar Manzardill
Armodrillo
Talpaedan
Astrodactyl
Unknown
Atomix
Unknown
Ball Weevil
Unknown
Big Chill
Necrofriggian
Blitzwolfer
Loboan
Bloxx
Segmentasapien
Brainstorm
Cerebrocrustacean
Bullfrag
Incursean
Buzzshock
Nosedeenian
Cannonbolt
Arburian Pelarota
ChamAlien
Merlinisapien
Chromastone
Crystalsapien
Clockwork
Chronosapien
Crashhopper
Unknown
Decagon Vreedle

[5] || Vreedle ||

Diamondhead
Petrosapien
Ditto
Splixson
Eatle
Unknown
Echo Echo
Sonorosian
Eye Guy
Opticoid
Fasttrack
Citrakayah
Feedback
Conductoid
Four Arms
Tetramand
Frankenstrike
Transylian
Ghostfreak
Ectonurite
Goop
Polymorph
Gravattack
Galilean
Grey Matter
Galvan
Gutrot
Unknown
Heatblast
Pyronite
Humungousaur
Vaxasaurian
Jetray
Aerophibian
Jury Rigg
Unknown
Kickin Hawk
Unknown
Lodestar
Biosovortian
Mole-Stache
Unknown
Nanomech
Human/Nanochip
NRG
Prypiatosian-B
Pesky Dust
Nemuina
Rath
Appoplexian
Ripjaws
Piscciss Volann
Rocks [6]
Basalt
Shocksquatch
Gimlinopithecus
Snare-oh
Thep Khufan
Spidermonkey
Arachnichimp
Spitter [7]
Spheroid
Squidstrictor
Cephalod-ae
Stinkfly
Lepidopterran
Swampfire
Methanosian
Terraspin
Geochelone Aerio
Toepick
Unknown
The Worst
Atrocian
Perk Upchuck
Perk Gourmand
Murk Upchuck
Murk Gourmand
Upgrade
Galvanic Mechamorph
Ventrilosquid
Unknown
Walkatrout
Ickthyperambuloid
Water Hazard
Orishan
Way Big
To'kustar
Whampire
Vladat
Wildmutt
Vulpimancer
Wildvine
Florauna
XLR8
Kineceleran
Villians
Various Alien Bandits
Various Extra Terrestrial Hunters
Update
Due to encouraging SuperSoldier Developments, Outlaws will only be a short miniseries consisting of short episodes. If popularity and demand is high, a normal length season 2 will be produced.
Community content is available under
CC-BY-SA
unless otherwise noted.