(18 intermediate revisions by one other user not shown)
Line 2:
Line 2:
 

'''Ben 10: Omnifinite''' is a franchise created by [[User:UltiVerse|UltiVerse]]. It takes place in [[Earth-50]].

 

'''Ben 10: Omnifinite''' is a franchise created by [[User:UltiVerse|UltiVerse]]. It takes place in [[Earth-50]].

 
 
 
+

==Ongoing Series==

−

{{Template:Heading3

 
 
⚫
−

|Test = Staff}}

 
−

==Writers==

 
 
 
 
+

''Ben 10: Protector of the Omniverse'' takes place in Timeline 1 of Earth-50, where ''Omniverse'' never happened. After a year or so of having the Omnitrix, Ben decided to once and for all live a normal life, and leave Gwen and Kevin as Earth's protectors. However, following a tragic incident, Ben must now return to the hero business with a new Omnitrix called the Infinimatrix to stop a threat so powerful, it may need all the help he can get, all while balancing his normal life.

−

*[[User:UltiVerse|UltiVerse]] (Creator)

 
−

*[[User:The Awesome Jack|The Awesome Jack]]

 
−

*[[User:Ultra3000|Ultra3000]]

 
−

*[[User:Diamondface|Diamondface]]

 
−

*[[User:Lsvel|Lsvel]]

 
−

*[[User:StreetM|StreetM]]

 
−

*[[User:Ben10fan3|Ben10fan3]]

 
−

*[[User:Hanyfadil|Hanyfadil]]

 
−

*[[User:Shades of the sun|Shades of the sun]]

 
 
 
 
+

The series is part of ''Ben 10: Omnifinite''. It uses [[Panglar's Theorem of Timeline Relativity]].

−

==Art Designers and Other(s)==

 
 
 
 
+

It was created on the 22nd of April 2012 by [[User:UltiVerse|UltiVerse]], but rebooted on 26 September 2014, and again on 8/7/2016. The older episodes are confirmed to remain as they are in a special section in the episode guide, and will not affect the timeline at all.

−

*[[User:Lego Master|Lego Master]] (Co-Founder, Art Designer and Idea Provider)

 
−

*[[User:The Awesome Jack|The Awesome Jack]] (Art Designer)

 
−

*[[User:Reo 54|Reo 54]] (Art Designer)

 
−

*[[User:Brandon 10|Brandon 10]] (Idea Provider)

 
 
 
 
+

==Canceled Series==

−

{{Heading3

 
−

|Test = Series}}

+

= Series

⚫
 
 
 
 
+

''Ben 13'' is a series which was canceled on 8/11/2015. The series follows a 13-year old Ben Tennyson in Timeline 13 of [[Earth-50]], who, after receiving the Elite Gauntlet, is sent to the Plumber Academy to learn to control the gauntlet. The series has one unfinished episode.

−

'''Ben 10: Protector of the Omniverse''' is a series taking place after ''Omniverse'' where Ben and Gwen are 18 and Kevin is 19. All the events of ''Omniverse'' did happen in this timeline, except Ben, Gwen, and Kevin were still a team and Ben never met Rook until [[The Chronian Invasion]]. With the power of the [[Infinimatrix]] (a device Ben obtained in [[Azmuth's Invention]]) and his teammates, Ben faces many challenges.

 
 
 
 
⚫
−

===Staff===

 
 
 
 
+

After getting trapped in the Null Void with seemingly no way out, Ben must uncover the secrets of its corrupt criminal underworld. With a recalibrated Hero Watch loaded with lots of new aliens and features, Ben must form a group of heroes to fight back and set themselves free from the deadly realm, and learn new things along the way.

−

*[[User:UltiVerse|UltiVerse]] (Creator)

 
−

*[[User:The Awesome Jack|The Awesome Jack]] (Co-Writer)

 
−

*[[User:Ultra3000|Ultra3000]] (Co-Writer)

 
−

*[[User:Diamondface|Diamondface]] (Co-Writer)

 
−

*[[User:Lego Master|Lego Master]] (Art Designer and Idea Provider)

 
 
 
 
+

It takes place in Timeline 23 of [[Earth-50]] and uses [[Panglar's Theorem of Timeline Relativity]].

−

==[[Ben 10: Omni-Generation]]==

 
 
 
 
⚫
−

'''Ben 10: Omni-Generation''' is the sequel series to [[Ben 10: Protector of the Omniverse]] that follows Ben, Gwen, Kevin and Rook as they unravel secrets of a new villain named Sikopode.

 
 
⚫
 
 
 
+

''Ben 34'' is a series by [[User:Lsvel|Ls]]. The series is about Ben finding more secrets about his family and tries to battle his nemesis, Hayes, who is none other than his own grandfather.

−

===Staff===

 
−
 
−

*[[User:UltiVerse|UltiVerse]] (Creator)

 
−

*[[User:The Awesome Jack|The Awesome Jack]] (Co-Writer)

 
−

*[[User:Ultra3000|Ultra3000]] (Co-Writer)

 
−

*[[User:Diamondface|Diamondface]] (Co-Writer)

 
−

*[[User:Lego Master|Lego Master]] (Art Designer and Idea Provider)

 
−
 
−

==[[Ben 10,000: Omni-War]]==

 
−
 
−

'''Ben 10,000: Omni-War''' follows a different path immediately after Feedback's destruction. Ben goes cold and solo in fighting. As much as he could handle it for four years, Ben, now 15, must fend off mutant Chronosapiens and Plutonians from destroying everything he stands for while following a path to become Ben 10,000.

 
−
 
−

===Staff===

 
−
 
−

*[[User:UltiVerse|UltiVerse]] (Creator)

 
−

*[[User:The Awesome Jack|The Awesome Jack]] (Co-Writer and Art Designer)

 
−

*[[User:Ultra3000|Ultra3000]] (Co-Writer)

 
−

*[[User:Cannonboy|Cannonboy]] (Co-Writer)

 
−
 
−

==[[Ben 13 (Series)|Ben 13]]==

 
−
 
−

In '''Ben 13''', a 10-year old Ben Tennyson gains the Awesomatrix, and discovers secrets about the universe, while a vicious Tetramand named Redax unleashes an army of evil Tetramands to go after him, while destroying everything around them.

 
−
 
−

===Staff===

 
−
 
−

*[[User:UltiVerse|UltiVerse]] (Creator)

 
−

*[[User:Lsvel|Lsvel]] (Co-Writer)

 
−

*[[User:The Awesome Jack|The Awesome Jack]] (Co-Writer)

 
−

*[[User:InsideSpace'sMind|InsideSpace'sMind]] (Co-Writer)

 
−

*[[User:Cannonboy|Cannonboy]] (Co-Writer)

 
−

*[[User:Reo 54|Reo 54]] (Art Designer)

 
−
 
−

==[[Ben 10: Reign of Evil]]==

 
−
 
−

'''Ben 10: Reign of Evil''' is a spin-off to [[Ben 10: Protector of the Omniverse]], that takes place in the infamous Dimension 21, home of [[Ben Tennyson (Dimension 21)|Ben-21]], and tells of his battles against the heroes.

 
−
 
−

===Staff===

 
−
 
−

*[[User:Ben10fan3|Ben10fan3]] (Creator)

 
−
 
⚫
 
−
 
−

'''Ben 23: Hero Generation'' takes place a day after Ben 10: Protector of the Omniverse's version of Store 23. Malware of Dimension 23 invades the Highbreed mother ship and overthrows the Highbreed Supreme, taking over their operations. Azmuth presents Ben with the Ultimatrix to stop them. With Malware in control of the Highbreeds, will Ben be able to stop this intergalactic threat?

 
−
 
−

===Staff===

 
−
 
−

*[[User:UltiVerse|UltiVerse]] (Creator)

 
−

*[[User:Diamondface|Diamondface]] (Co-Writer)

 
−

*[[User:Cannonboy|Cannonboy]] (Co-Writer)

 
−

*[[User:Brandon 10|Brandon 10]] (Idea Provider)

 
−
 
⚫
 
−
 
−

Expansion needed.

 
−
 
⚫
 
−
 
−

===Staff===

 
−
 
−

*[[User:Lsvel|Lsvel]] (Creator)

 
−

*[[User:Shade of the sun|Shades of the sun]] (Co-Writer)

 
 
 
 

==Fans==

 

==Fans==

Line 110:
Line 34:
 

* '''[[User:Ultra3000|THE IRONY MAN]], '''15:30, July 2, 2013 (UTC) 

 

* '''[[User:Ultra3000|THE IRONY MAN]], '''15:30, July 2, 2013 (UTC) 

 

* [http://theeverythingeverything.wikia.com/wiki/MURDER%7C Who Committed MURDER]... [[User:Sci100|Sci]] 01:23, November 26, 2013 (UTC)

 

* [http://theeverythingeverything.wikia.com/wiki/MURDER%7C Who Committed MURDER]... [[User:Sci100|Sci]] 01:23, November 26, 2013 (UTC)

−

* [[User: Lsvel| Pst...I am Lsssvel]]

+

* [[User: Lsvel|Pst...I am Lsssvel]]

 
+

* [[User:SyncMaster940|What's A]] [[Message Wall:SyncMaster940|Hashtag?]] [[User blog:SyncMaster940|- Gibbs]] [[Special:Contributions/SyncMaster940|#NCIS]] 09:50, August 6, 2014 (UTC)

 

[[Category:Series]]

 

[[Category:Series]]

−

[[Category:Franchise]]

 
 

[[Category:The Awesome Jack]]

 

[[Category:The Awesome Jack]]

−

[[Category:6jackb]]

 
 

[[Category:Lego Master]]

 

[[Category:Lego Master]]

 

[[Category:Ben 10: Protector of the Omniverse]]

 

[[Category:Ben 10: Protector of the Omniverse]]

−

[[Category:Ben 10: Omni-Generation]]

 
−

[[Category:Ben 10,000: Omni-War]]

 
 

[[Category:Ben 13]]

 

[[Category:Ben 13]]

−

[[Category:Ben 21]]

 
−

[[Category:Multiple Series]]

 
 

[[Category:Ben 23: Hero Generation]]

 

[[Category:Ben 23: Hero Generation]]
---
Latest revision as of 10:10, 7 January 2020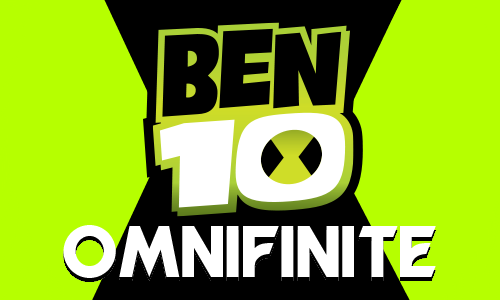 Ben 10: Omnifinite is a franchise created by UltiVerse. It takes place in Earth-50.
Ongoing Series
Ben 10: Protector of the Omniverse takes place in Timeline 1 of Earth-50, where Omniverse never happened. After a year or so of having the Omnitrix, Ben decided to once and for all live a normal life, and leave Gwen and Kevin as Earth's protectors. However, following a tragic incident, Ben must now return to the hero business with a new Omnitrix called the Infinimatrix to stop a threat so powerful, it may need all the help he can get, all while balancing his normal life.
The series is part of Ben 10: Omnifinite. It uses Panglar's Theorem of Timeline Relativity.
It was created on the 22nd of April 2012 by UltiVerse, but rebooted on 26 September 2014, and again on 8/7/2016. The older episodes are confirmed to remain as they are in a special section in the episode guide, and will not affect the timeline at all.
Canceled Series
Ben 13 is a series which was canceled on 8/11/2015. The series follows a 13-year old Ben Tennyson in Timeline 13 of Earth-50, who, after receiving the Elite Gauntlet, is sent to the Plumber Academy to learn to control the gauntlet. The series has one unfinished episode.
After getting trapped in the Null Void with seemingly no way out, Ben must uncover the secrets of its corrupt criminal underworld. With a recalibrated Hero Watch loaded with lots of new aliens and features, Ben must form a group of heroes to fight back and set themselves free from the deadly realm, and learn new things along the way.
It takes place in Timeline 23 of Earth-50 and uses Panglar's Theorem of Timeline Relativity.
Ben 10: Meta
Ben 34 is a series by Ls. The series is about Ben finding more secrets about his family and tries to battle his nemesis, Hayes, who is none other than his own grandfather.
Fans
Add your signature (~~~~) on a new bullet here if you like the Omnifinite franchise!