Unrated

No known rating.
The following additional labels have been provided: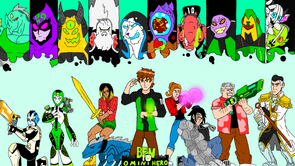 Ben 10 Ominihero
Creator
Igrão Dias
Co-Writers
Igrão Dias, Alexandre Magno, Daniel Sanchillis, RaphaLXIV
Artist(s) and Others
Alexandre Magno, Daniel Sanchillis, RaphaLXIV, Marcus VMS, Robson Conde, Andre Prates, João Vinicius, Felipe Alves, Rafael Santos, Mrray Jooj, Samuel Richardson, Alessandro Nunes, Rafael Santos, May Looma, Rodrigo Veiga, Nadson Bezerra, CATシ
Seasons
On going
Episodes
On going
Created on
June 18, 2019
Rating
No ratings
Preceded By
Ben 10 Omniverse
Succeeded by
None
Ben 10 Ominihero is a series written by Igrão Dias, drawn by Alexandre Magno and by Daniel Sanchillis, translated by me, RaphLXIV, that follows Ben and his friends as they travel around the universe two years after the end of Omniverse. Daniel Lopes participates on the correction of the script and the misspelled words, João Victor, Robson Conde, Marcus Vms, Felipe Alves, Andre Prates, Samuel Richardson, Mrray Jooj, Alessandro Nunes, Bruno Ximenes, Nadson Bezerra, Rodrigo Veiga, Freeze Lizard, CATシ and Rafael Santos also participate on the drawing process..
You can access the comic on the page Ben 10 Ominihero on Facebook (https://www.facebook.com/permalink.php?story_fbid=612544462658010&id=440974623148329). We also have a group on Facebook, which you can join at https://www.facebook.com/groups/3023472607734700/. In addition we have a blog where you can find the comics (https://bendezomnihero.blogspot.com/p/welcome-to-area-to-provide-links-for.html) and a Twitter account (https://twitter.com/BOmnihero).
Overview
A Brazilian Comic of Ben 10 made by fans for fans. 2 years after the end of Ben 10 Omniverse, Ben and his friends (Rook, Kevin, Gwen, Zed and Kai) travel around the universe to explore it in the Rust Bucket 4, but during their trip, they end up encountering the spaceship of Galord, a villain who hunts races from different dimensions to make his own experiments. During all of this, Ben's Omnitrix goes into recalibration mode once again and unlocks 10 new aliens.
Fan List
Sign your name here if you follow the comic!
Bence Szilágyi 🖖😎
Don't have Facebook, but I'm READING what I can anyways! -Jetrashipper
Awesome comic, keep the good effort up! MasterCrep (Wall -

Blog

- Contribs) 07:22, 22 June 2021 (UTC)
GREAT comic, I love it, one of the best fanmade comics out there, if I had to rate it, 11/10 for sure! -Isaac
Characters
Heroes
Villains
Allies
Eunice

Helen Wheels

Manny Armstrong

Alan Albright

Magister Patelliday
Aliens
Primary Omnitrix Aliens
Nemetrix Aliens
Alternate Omnitrix Users
Secondary Characters
Ominihero originals
Sandyson Are'ilais Trevilim Samu Ninrai
Sandra Deinze Magimiralis Samu Ninrai
Shingsid Are'ilais Margimiralis
Ricy Are'ilais Margimiralis
Tatooobalien
Duolion
Horffalo
Chimutation
Mouslittle
Wiin Thepuh
Ursula (Flashback only)
Urban (Flashback only)
Bearnie
Bearnard
South Commander Ursuro
Starmuth
Bruk
Pakespider
SPD
Switrack
Classic characters
Cash Murray
J.T.
Argit
Rad Dudesman
Locations
Earth

The Galactic Arena

Kinet (Flashback)
Chalybeas (Flashback)

Campnos
Trivia