Unrated No known rating.
The following additional labels have been provided: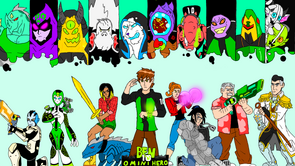 Ben 10 Ominihero
Creator
Igrão Dias
Co-Writers
Igrão Dias, Alexandre Magno, Daniel Sanchillis, RaphaLXIV
Artist(s) and Others
Alexandre Magno, Daniel Sanchillis, RaphaLXIV
Seasons
On going
Episodes
On going
Created on
June 18, 2019
Rating
No ratings
Preceded By
Ben 10 Omniverse
Succeeded by
None
Ben 10 Ominihero is a series written by Igrão Dias, drawn by Alexandre Magno and by Daniel Sanchillis, translated by me, RaphaLXIV that follows Ben and his friends as they travel around the universe two years after the end of Omniverse. Daniel Lopes participates on the correction of the script and the misspelled words, João Victor, Robson Conde and Marcus Vms also participate on the drawing process and Gustavo Gonçalves does artworks for the covers.
You can access the comic on the page Ben 10 Ominihero on Facebook (https://www.facebook.com/permalink.php?story_fbid=612544462658010&id=440974623148329). We also have a group on Facebook, which you can join at https://www.facebook.com/groups/3023472607734700/.
Overview
A Brazilian Comic of Ben 10 made by fans for fans. It's events take place 2 years after the end of Ben 10: Ominiverse. Fanfic's initial plot: 2 years after the end of Ben 10 Ominiverse, Ben and his friends (Rook, Kevin, Gwen, Zed and Kai) travel around the universe to explore it, but during their trip, they end up encountering the spaceship of Galord, a villain who hunts races from different dimensions to make his own experiments. During all of this, Ben's Ominitrix goes into recalibration mode once again and unlocks 10 new aliens.
Note: As you know, the project was made only by four people with one translator, so there might be a few mistakes.
Episodes
Characters
Heroes
Villains
Allies
Aliens
Primary Omnitrix Aliens
Nemetrix Aliens
Alternate Omnitrix Users
Secondary Characters
Locations
Trivia
Community content is available under
CC-BY-SA
unless otherwise noted.