Not only is this page outdated, but the theme song is now whatever you want it to be. I'm not sure what I'll do with the page, though.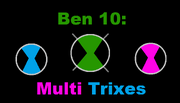 This is the theme song for Ben 10: Multi Trixes. It is rumored to be changed from Season 3 on.
Seasons 1-2
The Ultimate Alien theme music plays as the camera zooms in on a cylinder that has all Ben 10 aliens around the outside, including fan-fiction ones, and the Ultimate Alien on top. The camera circles around it and climbs up, zooming out as it gets above the cylinder, getting the Ultimate Alien's full view, and then zooms into its Omnitrix symbol. After all that, it glows green and shows the logo.
Season 2 Finale
BTMT Movie Season Finale Thingy! has a different theme song...
There is a big area in space, with every alien Ben ever turned into, including borrowed ones. The Alien Force theme music plays as the camera randomly goes around the area, showing every alien there. After that, the camera zooms way out, and comes out of the All-Power-Trix through the green Power piece. The movie title is shows underneath.
Season 3
It is similar to the Alien Force theme song, even with the same music, but the background is partially pink and blue. Parts in the background show pictures of spots in the episodes of Season 3. All the first ten brrowed aliens (found here) show in place of the Alien Force original ten. In the end is the same logo.
Season 3 Finale and Season 4
The two-part The Beginningof the End Season 2 finale also has a different theme song. It is almost the same as the UA theme song, but tweaked to fit BTMT. For example, Ben in the beginning has the Omnitrix 2.0, fan-fiction aliens and new canon ones are shown in addition to the ones normally shown, etc. Then the end logo is shown. It has become permanent for Season 4.
Ben 10: Ultimate Crossover
BTUC has a new theme, with the UA theme's background music. It starts out showing a Vilgax silhouette against a green background. The ground and all other characters are silhouettes, too. All the heroes of the other series used run up to Vilgax to fight him, but he defeats them all in some form of attack, literally throwing them away. Then Ben comes up, turns into Rath, and picks Vilgax up and throws him at the "camera". Then the logo is shown, which is designed to mimic the Season 4 logo.
Notes
The theme song has no words, like the AF and UA theme songs.
It is one of the few theme songs in the wiki to change its style out of Season ends. (i.e. change at BTMT Movie, change at TBOTE, etc.)