TV-PG

LV


This content contains material that may be unsuitable for younger children.
Ben 10: Eternal Forms
is a series created by Binkatong. It is an alternate timeline of Ben 10: Ultimate Alien that starts at the beginning of Absolute Power.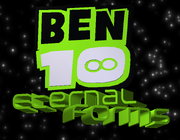 Characters
See also: Ben 10: Eternal Forms Characters
Theme Song
The theme song is an edited version of "Witchcraft" by Pendulum.
Episodes
See Also: Ben 10: Eternal Forms Episode Guide
Season 1
Extra Ordinary
Solar Flair
Hatchling
The Crystal Warrior
Sleep with the Fishes
Trixnapped
Ben Drowned
Fan List
Put your signature here if you're a fan!
Ultimateheration! Cool Sneeze, Please! I am a blogger, view my proof here. w:c:ben10fanfiction:Evan Billion Like series? 22:21, June 26, 2011 (UTC)

Rocketslug! :)

Happy to talk!

02:06, July 14, 2011 (UTC)
¡ʎʇsɐʇ ǝɹǝɥʇ znɔ ¡sǝןʞɔıd ǝʞıן ı 15:53, July 19, 2011 (UTC)
Zombie-boy will get you! 16:42, August 3, 2011 (UTC)
Hey, Everybody, My Name is Newbie49 and I'm Kind of a... Well, Look That the Username (Talk - Blog - Contribs) 20:28, August 6, 2011 (UTC)

FCAT=Fire Crisis at Thinking

00:53, September 7, 2011 (UTC)
TF - Supreme in every way 08:13, November 30, 2011 (UTC)
(Insert screams of pain here) 04:22, December 19, 2011 (UTC)
Talk to ET

J13

BTUAM

ULTIMATE RAAAAAATH!!!!!!!!!!

02:07, January 6, 2012 (UTC)
Ambitia here, I absolutely love this series. Keep up the awesome job!
When in doubt, talk to the magical talking pudding 18:17, February 19, 2012 (UTC)
Jackison Will Rule All! (Wall - Blog - Contribs) 18:08, February 22, 2012 (UTC)
This series is great, I only wish it would be written faster. You meanObi Wannever told youthatI AMYOUR FATHER! 15:41, April 13, 2012 (UTC)
UltimateFanofDestruction (Wall - Blog - Contribs) 00:12, May 27, 2012 (UTC)
٩(͡๏̯͡๏)۶ Regular Guy -

Irregular people are SO overrated.

01:31, July 19, 2012 (UTC)
On Other Sites
Ben 10: Eternal Forms has an official group on the Ben 10 Toys website. It can be found here:
Community content is available under
CC-BY-SA
unless otherwise noted.