It's Been a Long, Dangerous Battle!


BTBS is currently on hiatus for a while. You will have to wait until it returns from its break to see any new episodes. Sorry about that.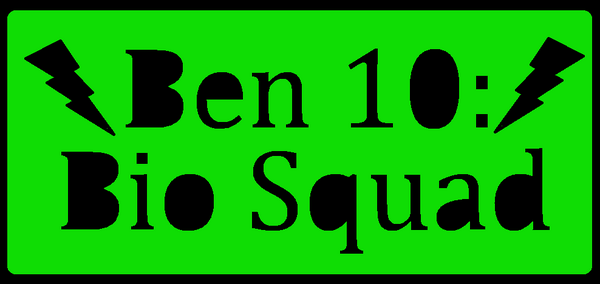 One of the series' logos.
---
THANKS FOR MAKING BTBS MAY 2012'S FEATURED SERIES!
Master of Dimensions... Pleaser of Crowds...


This Belongs to Paper!
Ben 10: Bio Squad is in the middle of being rebooted for the "New 52 of Ben 10." Therefore, this page is currently under construction. The reboot most likely will follow some similar structure such as keeping the Biotrix, but will remove ideas that didn't have "fuel" such as some of the story arcs and the Synchrotrix. The future of all characters in the series with the exception of Ben, Gwen, Kevin, and some villains is unknown.
Ben 10: Bio Squad: Rebooted is a reboot of Ben 10: Bio Squad that was announced on July 14, 2012. It will take place a year after Ben 10: Maximum Heroes. It will start out having only one season, but there might be more.
---
Aliens
Heatblast
Wildmutt
Diamondhead
XLR8
Grey Matter
Fourarms
Stinkfly
Ripjaws
Upgrade
Ghostfreak
Cannonbolt
Wildvine
Benwolf
Benmummy
Benviktor
Upchuck
Ditto
Eye Guy
Waybig
Spitter
Buzzshock
Artiguana
Swampfire
Echo Echo

Humungosaur
Jetray
Big Chill
Chromastone
Brainstorm
Spidermonkey
Goop
Alien X
Lodestar
Rath
Nanomech
Water Hazard
Terraspin
NRG
Aramdrillo
Ampfibian
Fasttrack
Clockwork
ChamAlien
Shockquatch
Eatle
Jury Rigg
Bloxx

Feedback
Gravattack
Ball Weevil
Crashhopper
Kickin Hawk
Thorus
Protoblitz
Cybertron
Chargar
Shadowfaze
Blockade
Blackjack
1337
Vertigo
Whipcrack
Cerebrus
Eye-Q
Catalyst
pH
Quatinium
Beebuzz
WreckingBall
Kinesis

Chrometheus
Wook
Rockstar
Symphous
Energon
Masherade
Mammoth
Shimmer
Lobsterclaw
Assassin
Tick Tock
Paindulum
Shredder
Drifter
Eclipse
Leafstorm
Hemlock
Blitz
Mindfeeder
Whirlwind
Vulcan
Armorgeddon
Emul8
Tenten
Ultimate Forms
Ultimate Humungosaur
Ultimate Swampfire
Ultimate Echo Echo
Ultimate Spidermonkey

Ultimate Big Chill
Ultimate Cannonbolt
Ultimate Wildmutt
Ultimate NRG

Ultimate Rath
Ultimate Diamondhead
Ultimate Armadrillo
Ultimate Brainstorm