Bellwood is the name of the town where Ben, along with other characters live in.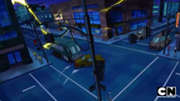 Locations
Mr. Smoothy
Ben's favorite beverage shop has 23 franchise locations in Bellwood, with the 23rd being a dimension-skipping one.
Burger Shack
Ben's favorite fastfood restaurant.
Max's Plumbing/Plumber Base
Introduced in Ben 10:Alien Swarm and Omniverse as new base for Plumbers.