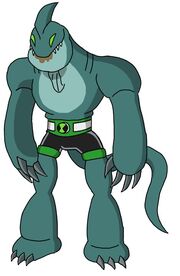 Barfamel is the Omnitrix's DNA sample of a Candomordian from the planet Sweetis.
Appearance
Barfamel has the appearance of a fluffy, rubbery humanoid alien similar to a shark. He has ocean blue skin, with lighter blue jaw and belly, big arms and stubby legs, with small teeth protruding from his mouth. He also has a small fin on the top of his head, sharp claws on his hand and smaller ones on his feet. He wears black and green shorts and a green and white belt, where the Omnitrix symbol is located. He also has a long, prehensile tail.
Powers and Abilities
As his species evolved to climb trees to get the sweet fruits on the top, he developed sharp claws and a prehensile tail. He is also very durable, as they may fall from dozens of feet in the air if they don't take a good grab on the trunk, and strong. As these fruits have high calories of sugar, their stomach has a special acid that boils it, producing caramel, which they can spit out or use to their advantage, as they can trap competitors from getting fruits by shooting a blast from it, which rapidly solidifies.
Weaknesses
Foods with immense quantities of sugar, like soda, can overload his digestive system, leaving him with stomach ache and incapable to produce his caramel.
History
Appearances
Trivia
His name comes from the words "Barf" and "Caramel", while his species name comes from "Candy" and his planet's comes from "Sweet".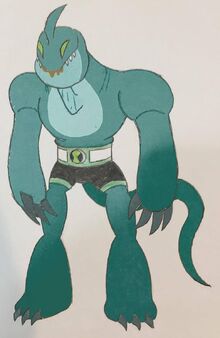 Older Version: