Bamboon is a Chimpaleafian, on the planet Bushian.
AppearanceEdit
He is a green, ninja like baboon. He has bush like grass on his head, shoulders, arms, legs, and back. He also has a tail and little bamboos on his back, with green eyes and the Omnitrix symbol is on his chest.
AbilitiesEdit
Chlorokinesis, Create, manipulate, and control plants.
Vine nets, from his wrist, fires balls that turn into nets made of vines.
Vine grapples, from his wrists, fires ropes with hooks on the end to swing from place to place.
Enhanced agility, he is pretty much a ninja.
Enhanced jumping, smaller than Hulk's jumps, but pretty far.
Bamboo generation, can generate bamboo staffs as weapons.
WeaknessesEdit
Fire.
Being in the dark for a long time with no sun.
Gallery and CreditsEdit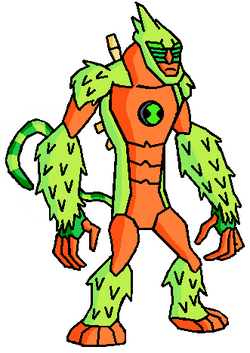 All credit goes to me, Osmosian217.
Check out Osmosian217 Aliens for more.