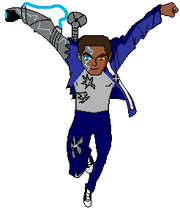 Autobot L
(Lucas) is a supporting character and close friend in
Will 10
. Will calls him in when the chances of winning arent the best.
This is an 11 year old boy named Lucas with Cybertronian powers. He is a Techno-Organic. He can stay in human form, or when he wants, he can transform into his hidden cybertronian mode! But thats not all. He can also transform into a motorcyle. His closest allies are Will 10, Pred, Ironhide, Topspin, and Sentinel Prime.
Weapons
Robo-Whips
Spark Plug
Plasma Launcher
Techwings
Drill Bit
Ground Pound
Super Saw
Community content is available under
CC-BY-SA
unless otherwise noted.