Attraction
is an intellegent magnetic alien. His species is Aimantians and his planet is Aimantia.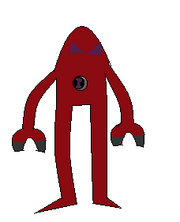 Powers
Super intellegence
Magnet control
Lightning control
Able to fit in small spaces
Weaknesses
Cannot attract metal that covers technology
If he electricutes himself, there is 80% chance he would die
Weak against larger foes
He is one of the Season 3 original ten in Ben 10: Multi Trixes.
Community content is available under
CC-BY-SA
unless otherwise noted.