Atomix is the DNA sample of a Prypiatosian-A.
Appearance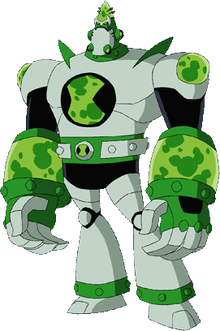 Atomix looks just like in Omniverse. He is about 3 meters (10 ft) tall.
Powers and Abilities
Atomix is ironically considered the "robotic Goku of the Ben 10 Universe", due to his immense power. He has radiokinesis, energy manipulation, enhanced strength, durability, agility, speed, flight and space survivability.
He is able to create radio waves.
Weaknesses
Atomix's large size prevents him to fit into small places.
Appearances
Trivia
Atomix shares home planet with NRG. However, Prypiatosians-A have left Prypiatos and now live all over the Local Group.
At Azmuth's College Aliens