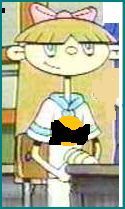 Ashley is a new alien and the first villian in (The Other) Ven 10 (Series). She is a Delightful Child from Down the Lane from The Delightful Mansion from Down the Lane.
Appearance
She looks like Ashley (the Delightful Bow-Girl) from Codename: Kids Next Door, but with a big Ganamatrix symbol on her chest.
Behavior
When Ven turns into Ashley, she gets a major behavior check. This is useful when Ven needs to behave, until the Ganamatrix times out. It is also dangerous to Ven's humanity.
Weakness
Ashley is a Delightful Child from Down the Lane, so she can posess Ven, like Ghostfreak or Big Chill would. She can also hack the Ganamatrix and even lose her human will. These traits make her a very dangerous alien to use.
Abilities
Original Abilities
Perfect (-ly scary) behavior
Can posess Ven (This is more of a Weakness)
Can Delightfulize Others at will.
ATGHN and Beyond
Flight
Opening Dimensional Portals
Intangibility
Appearances
Community content is available under
CC-BY-SA
unless otherwise noted.