Animild is an alien in Evan Billion: F.I.N.D. Adventure. He is a Faunyan, his planet is Animalia. He also appears in Quatrus 10.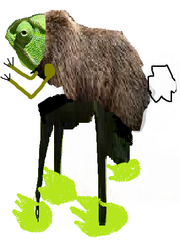 Appearance
He has horse legs.
He has frog feet.
He has a beaver body.
He has a chameleon head.
He has a bunny tail
Powers
Super strength
Super agility
Switching his body parts to different body parts
Evolving animals(caterpillar to cacoon to butterfly, monkey to human, etc.)
Claws
Long tongue
Camouflaging
High jumps
Attacking with his legs
Sticking to walls
Community content is available under
CC-BY-SA
unless otherwise noted.