All Your Base Are Belong To Us
(or short: AYBABTU) is an alien in
The Story of the Memetrix
. He is a Zerowingian from Memeia. He is also free usage.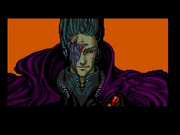 Appearance
He looks like Cats from the game Zero Wing.
Powers
Firing beams that make you speak english totally wrong
Stealing army bases, and them controlling them
Weaknesses
He speaks english totally wrong himself.
Appearances
Community content is available under
CC-BY-SA
unless otherwise noted.