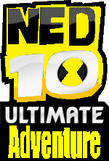 &nbsp
All Aboard to Ben10toyopolis is the second episode of Ned 10: Ultimate Adventures.
As Ned And Emma were walking down they saw the boat that lead to ben10toyopolis and it was leaving,so Ned slapped the Ultimatrix and turned into Jetray. Ned picked up Emma and flew to the ship.
Ned: "Whew,that was a close one."
Emma: "Yeah."
Ned & Emma: "Wow I sure miss Jonathan."
Ned: "We'll probably meet a bunch of new friends at Ben10toyopolis anyways we know a lot of people there already."
Emma: "How about while we wait we talk about our good times with Jon."
Ned: "Sure."
Emma: "You start."
Ned: "Ok remember when Bella asked me to dinner and we had to get me ready and when I was wearing Andréa's clothes and you slapped me?"
Emma: "Oh, yeah."
Ned: "Oh remember when we were competing when we figured out we we're both anodites?"
Emma: "Yeah, that was fun."
Ned: "Remember when a meteor randomly came out of nowhere,and a yellow Ultimatrix came out and jumped onto my wrist?"
Emma: "That was last week."
Ned: "I know."
Captain: "We're at ben10toyopolis"
Ned & Emma: "Sweet."
As Ned and Emma got off the ship they saw a bunch of new buildings they've never seen before.
Ned: "Wow!"
Emma: "Let's split up and meet back here in an hour."
Ned: "Sounds good"
The End
Community content is available under
CC-BY-SA
unless otherwise noted.