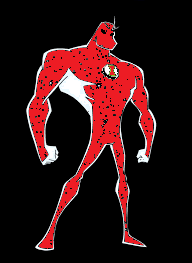 Alien XIIIII
General Information
Species
Celestialsapien
Home World
Forge of Creation
Age
Millions of Eons
Powers and Abilities
Abilities
Omnipotence
Relationships
Aliases
Mr. Galaxy (albedo)
Details
Voice Actor
Yuri Lowenthal

Alien XIIIII is a character in the Ben 15 series. He is a Celestialsapien from the Forge of Creation.
Appearance
Alien XIIIII is red, with black eyes. He wears the Ubertrix symbol on his chest.
Personality
There are three personalities inside Alien XIIIII, Berena and Sellicus. Berena being the Voice of Rage and Hate, Sellicus being the voice of Love and Compassion, and Ben being the voice of Reason. Ben later got full control over Alien XIIIII.
Powers and Abilities
Celestialsapiens can achieve any task in the universe, just by merely thinking it. The voices inside Celestialsapiens must carry a motion, though.
Weaknesses
None.
Community content is available under
CC-BY-SA
unless otherwise noted.