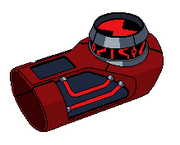 Albedo 10 is a series by Kross about Albedo after the end of Alien Force. However he fell into another Universe. In this Universe all the villians are good and all the heroes are evil .
Characters
Heroes
Villians
Tetrax(deceased)
Ship
The League of Light
Azmuth
Eunice
Plumbers
Ra'ad
P'andor
Andreas
Galapagus
Bivalvan
Biods(destroyed)
Ultimate Kevin
Episodes
Theme Song
The Albedo 10 theme song is like the Ben 10: Ultimate Alien theme song, except the background and trixes are red, it shows Albedo instead of Ben, and it has scenes from Albedo 10 instead of scenes from Ben 10: Alien Force.
Fan List
Lemme tell ya something custom-made Techadon designed specifically to destroy me: You may be big, but Rath's bigger! Except for the part where you're taller and weigh more than me! 22:46, November 3, 2011 (UTC) 06:43
The Mastermind (Talk - Blog - Contribs) 08:40, September 20, 2011 (UTC)
OMNIVERSE! OMNIVERSE! OMNIVERSE! KHYBER! BEN! ROOK! GRAVVATACK! BLOX! FEEBACK! (Wall - Blog - Contribs) 02:18, March 17, 2012 (UTC)
"I wanna defeat the Big Monkey Man and save the 9th Dimension!!!" (Wall - Blog - Contribs) 00:09, May 18, 2012 (UTC)
GIVE UP, STOLEN PLUMBER SHIP! YOU CAN'T ESCAPE FROM RATH! YAAH! (The ship begins to crash) CRASHING'S GOOD TOO! RATH CAN CRASH ALL DAY!

! (Rath falls down) NOW YOU'RE USING GRAVITY!! WELL FORGET IT! YOU CAN'T BEAT RAA.. (slams into ground) 07:31, September 11, 2012 (UTC) I never did this before, but...
"I will not sacrifice the Enterprise. We've made too many compromises already; too many retreats. They invade our space and we fall back. They assimilate entire worlds and we fall back. Not again. The line must be drawn here! This far, no further!" (Wall - Blog - Contribs) 20:18, July 16, 2012 (UTC)
BATTLEBLOCKTHEATER99 (Wall - Blog - Contribs) 19:24, April 15, 2013 (UTC)
Amm... Stay Positive! (Wall - Blog - Contribs) 18:20, January 21, 2014 (UTC)
Community content is available under
CC-BY-SA
unless otherwise noted.