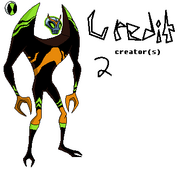 Aimant is a character in the series Simien 10. He is part of Cervelle's team, and later, becomes a part of Zynon's team. He is Omnimorph's best friend. His first appearence was "Omnimorphed".
Powers
Magnetic telekinesis
By using the power above he can do many powers:
Flight (by magnetizing himself upwards)
Regenaration (by magnetizing his lost limbs back)
Shooting electricity
Tracking any metal object on the planet by using the magnetosphere
Creating a magnetic forcefield that cannot be passed by metal
Creating a magnetic blast (like Magnetosphere)
Weaknesses
Other magnets
Electricity
Species and Planet
Species:Biosovortian
Planet: Attracta
Community content is available under
CC-BY-SA
unless otherwise noted.